ASSERTIVENESS
We trust our work. 97.1% of our placed candidates not only fit and stay with the company, but also deliver results.
BUSINESSACUMEN
We anticipate and understand business situations with a deep and genuine interest, both in the operation, and in the entire ecosystem of our clients.
CLOSENESS
We get involved at such a level of detail, that relationships with our clients are long lasting. Thus achieving that 78% of our clients, are recurring clients.
WARMTH
Each client is unique and special. Our treatment and willingness to listen and understand your needs and concerns, transcends.
We are more than only experts in executive search… we thrive in being authentic in acquiring the right talent to support our client organizations to successfully grow, while betting on people's potential to be empowered and achieve to do great things.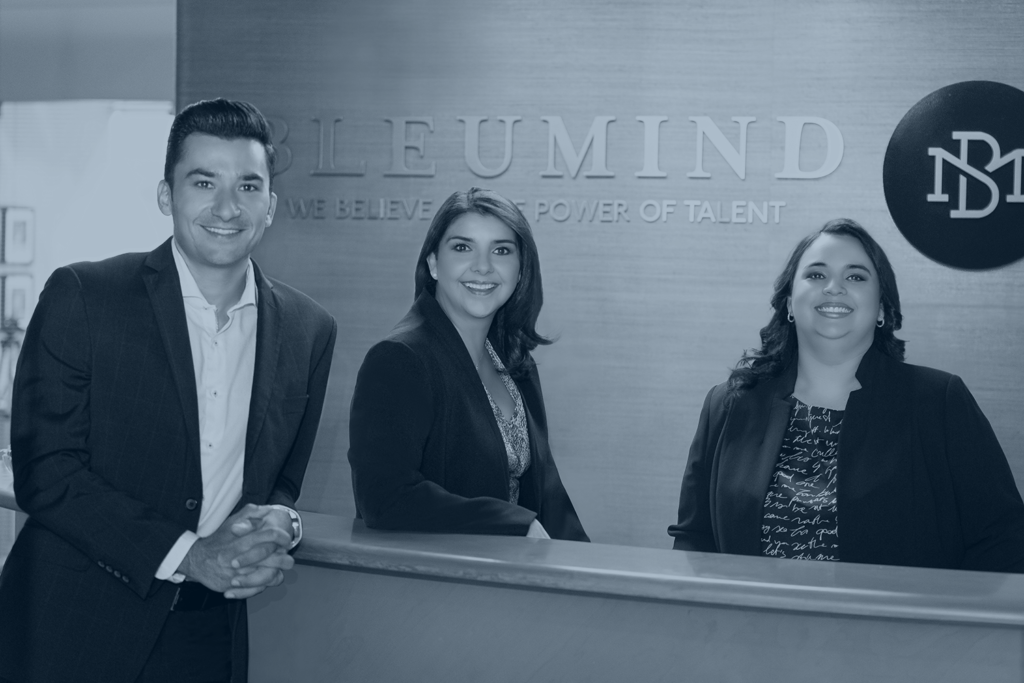 LUIS CARLOS CHAPA
lchapa@bleumind.com
"With his background and insight, Luis Carlos brought a unique value added to our process. With a fundamental understanding of operations, the skill sets required to succeed, and a true interest in our business culture, he was not only great to work with but from early on, he delivered a high-calibre of candidates.
David LaFleur President SPIROL International
ELIZABETH REYNA
ereyna@bleumind.com
"I admire Elizabeth's vision and awareness of business opportunities with a strong sensibility to find the right solution for her clients no matter how complicated it could be. She is a trustful person that is results oriented, following a strict Ethics Code and caring about all the people that she has contact with."
Anwar L. Aguilar Araujo, Xerox Business Services.
RUTH VILLALOBOS
rvillalobos@bleumind.com
"I had the opportunity to work with her in a recruitment process and I am very happy to recommend Ruth as a professional career coach. She is excellent covering the real needs not only for her customers but mines too, once that you meet different recruiters you can note the differences between when somebody cares or not."
Manuel Colin, Cimcool Fluid Technology
At Bleumind we not only have a talented team, we have the talent to recognize the talented.